Gift Card
---
SAVE $200 ON THE EASE CUSHION
Limited Time Offer
🌟 The all-new Ease Cushion. All of the features in our old cushions, now at a lower price.
Estimated shipping in 2 weeks
---
About Ease Cushion®
Registered with FDA for prevention & treatment of pressure/bed sores
Ease Cushion® uses software-driven HAPT™ technology to offload pressure and provides relief from pain and discomfort. Prevents bottoming out and provides automatic lifts and shifts.
Bluetooth Enabled
Yes, use our app for more features (optional)
Waterproof Incontinence Cover
Firmness Settings
Automatic (Customizable with Ease Cushion App)
Cycle Speed Settings
Every 1 minute (Customizable with Ease Cushion App)
Control your comfort with the app
Download the Ease Cushion app on the app store and connect to your Ease Cushion via your phone's Bluetooth.

*Access to the app will be available upon delivery of the product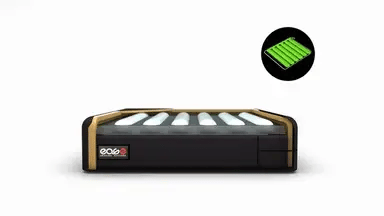 See HAPT technology at work
Our cushion inflates and deflates at alternating intervals to best keep your blood moving and prevent pressure sores.
FDA registered for preventing pressure sores
Simulates lifts and shifts
We're Giving Back
A portion of proceeds from each sale goes toward providing cushions to non profit organizations dedicated to those helping with a spinal cord injury.

You're not just choosing comfort for yourself — you're giving hope and relief to someone with a spinal cord injury. Together we can make a difference, one cushion at a time.