Filters
Save $15.01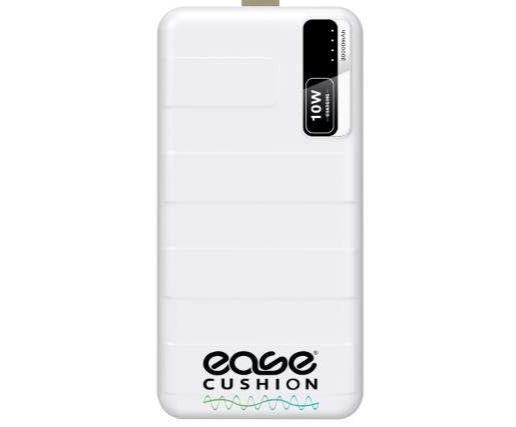 FAQs
Our customer support is available Monday to Friday: 8:00am-4:30pm EST
Call: (866) 376-1878
Is the Ease Cushion covered by insurance?

Many insurances have reimbursed their clients for the Ease Cushion. Talk to your case manager or insurance carrier for more details. Please note that we do not bill insurance directly. 

Need help? Give us a call at (866) 376-1878 M-F (8 AM to 4:30 P.M. EST) and our team will help guide you through this process.
Close but not exactly! You will not be jolted or constantly shaken. The idea is to relieve pressure from tissues compressed due to hours of sitting.

Think of pinching your finger. As you let go, the pressure is relieved and blood flow resumes. Voila! That is exactly how Ease Cushion improves your comfort, and endurance so you can continue sitting without pain!
What makes Ease Cushion different from other products?

 Simply put, it's not just a cushion! Most other products are static. They are made from foam, gel, or air that does not move.  The longer you sit on them, the more uncomfortable they become. 

Because it moves, many people assume the Ease Cushion is just another massage seat, but there are important differences. Massage seats use vibration or a kneading mechanism to target sore muscles.  They are not comfortable to use for extended periods because they do nothing to address a different source of pain; unrelieved pressure. 

The Ease Cushion intermittently redistributes the weight of the user to different areas of the seat.  This allows circulation to be restored as blood flows into tissues which were previously compressed.
Are you an American company?

Yes! The Ease Cushion® is proudly Designed & Assembled in the USA. We use around 80% domestically sourced material.
What is the return policy?
Can I pay in monthly installments?

ShopPay and Paypal are 3rd party services that offer affordable monthly payments at a pace you choose—usually 3, 6, or 12 months. Payment plans are available at the checkout. With Affirm's shopPay, there are no late fees, service fees, prepayment fees, or any hidden fees.

Your APR may be different depending on your creditworthiness. Checking your eligibility won't affect your credit. Please note that Paypal does not cover purchases above $1500 (link).
Why is Ease Cushion expensive?

The Ease Cushion is a high-quality medical device designed and built in the USA with as much domestically sourced material as possible. There are significant engineering, regulatory compliance, and manufacturing costs associated with bringing a product like this to market, and we refuse to compromise on quality. We stand behind our products to ensure customer satisfaction.
Why is Ease Cushion inexpensive?

Now that you know the effort and technology invested into an American company, you might wonder why the products don't cost more. 

At Ease Seating Systems, we believe that more value can be created through better designs.  Eliminating inefficiencies in our products and processes and selling directly to end users allows us to pass that value on to our customers.
Our customer support is available Monday to Friday: 8:00am-4:30pm EST
Call: (866) 376-1878